The Art of Light and Precise Packing: What to Bring When Studying Abroad
The Art of Light and Precise Packing: What to Bring When Studying Abroad
by - Published December 7, 2015
As many people already know (and even more will one day find out!), studying abroad is the adventure of a lifetime. Amongst café booths and behind the doors of hostels, new friendships develop and a taste for spontaneity is experienced, along with a sense of pride for one's country and a new-found respect for others. However, before one can properly begin this life-changing adventure, a formidable challenge must be faced: the dreaded filling of the suitcase.
Packing for study abroad is easy to put off until a few days before (cough...the night before) leaving, but we advise AGAINST this.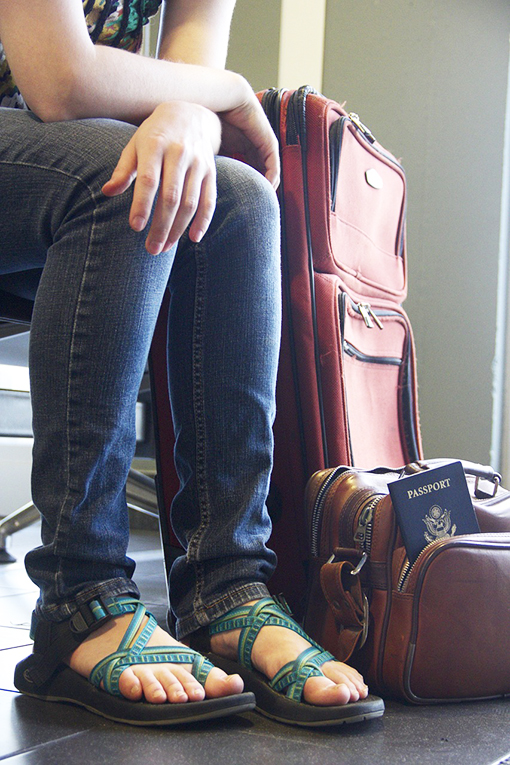 No matter if you're packing for two weeks or twelve months or planning to study in China or England, it can be overwhelming to slim down life's necessities into a single rolly box! This anxiety often leads to over-packing (do you really need brown, black, and neutral versions of your sandals, boots, AND sneakers?) or slightly ridiculous what if's ("But what if I have dinner with the queen?"), or, even worse, defaulting to the unnecessary "I need OPTIONS" mentality.
There's a reason it's not unusual to see chronic over-packers stuffing boots, toiletries, and snacks last minute into any free crevice or layering on each of their coats to save room in their luggage. Although these people don't have it figured it out, you can! Give your back a break and try your luck at living simply. It is possible to pack sans stress, you just need to follow a basic outline so your luggage doesn't hold you back. Lucky for you, we put one together below!
Buy Light Luggage
The best place to start your mini-packing adventure is with light luggage. You can help ensure that your luggage remains easy to transport when it's stuffed silly by focusing on the quality of the luggage itself. Lightweight, mobile gear will make your semester of study abroad so much smoother and hassle-free. You can focus on booking epic weekend trips instead of on where you'll store all the valuables you're carrying.
Find a suitcase that is both light and durable; canvas is a reliable material, and your suitcase should weigh no more than five pounds when empty.
Use a Portable Luggage Scale
This handy contraption, a portable luggage scale, attaches to your suitcase and measures the weight of your bag. It can save loads of time and pride, since you won't end up checking your bag at the counter just to find it is too heavy (and then play a round of musical suitcase placement while other flyers look on grumpily).
Utilize a Carry On Bag
Packing lightly gets even easier when one has access to a carry-on bag, too. Since carry-on luggage isn't subject to weight limits, you can opt to cart around your heaviest gear (like school supplies, books, and electronics) on the plane with you.
Save Room for Souvies!
When packing, remember you are going to another country and that it's impossible to not come back with the trinkets and souvenirs! Leave room intentionally in your bag for overseas mementos (even ones for your kid brother and sister). However, also keep in mind that some of the most valuable souvenirs from world travel cannot be bought.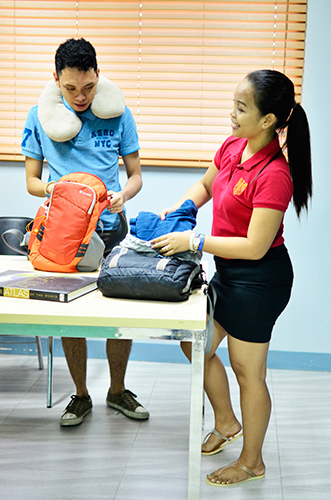 The old adage stands: bring half the stuff and twice the money.
In order to make sure there is enough room, start the packing process by gathering everything that you want to bring with you. Put it in all in a pile and then cut the pile in half. Yes, that's right, cut it down to the necessities. If you are having trouble deciding whether to bring something or not, do not pack it! Indecision about it now will only result in wasted space and more to keep track of while studying abroad.
Leave your SUPER-valuables at home.
Items will inevitably get left behind, stolen, forgotten about, or misplaced. Make sure you consider this when deciding what to pack; if it is an item you cannot live without, think twice about bringing it along with you abroad.
Organization is sexy.
Once you have figured out the contents of your suitcase, don't just throw it all in, zip it up, and call it good. Instead, try out my favorite travel hack: pack your clothes into Ziploc bags! Using this method, clothes can be organized into outfits. Ziploc bags also provide an extra measure of protection from water or dirt that can leak into bags as they are moved between flights and hotels. Later, these bags can be used to separate dirty clothes from clean ones!
If plastic bags are not your style, rolling clothes tightly like a sleeping bag can be a huge space saver!
For once, be basic.
When choosing which items will go and which items will stay, focus on basic items that can be re-worn and used for multiple occasions.
Clothing.

This is probably the hardest part of packing for your study abroad trip

. It is vital to keep in mind not only your style preferences and self expression, but also the traditional culture, customs, and taboos of the country you'll be studying abroad in. You should also be practical and dress for the climate and weather that is typical of your new home. To pack like a pro, make sure all your tops can go with all bottoms to maximize both outfit options and space. Remember: you're there to travel, not put on a fashion show!

Shoes.

You're going to want to bring multiple pairs, that is a given

. But instead of packing your fashionable high heels or your flimsy gladiator sandals, choose instead to invest in at least one pair of sturdy, high quality shoes that can transition easily from day to night. They may cost you $100 plus up front, but the extra money will seem worth it when you're helping your friend stumble home with a broken flip flop.



Extras.

Keep these handy items in your purse or backpack to save room in your suitcase and also to have on-hand: over-the-counter medications, a water bottle, sunscreen, chapstick, a book, bobby pins, a mini-umbrella, a mini-emergency kit, anti-wrinkle spray (no need to look like a slob, ahem), and an electronic adapter. In terms of accessories, stick to just one belt, along with just a few pieces of jewelry (some earrings, a fun necklace, and nothing expensive). Don't forget a scarf and a lightweight towel!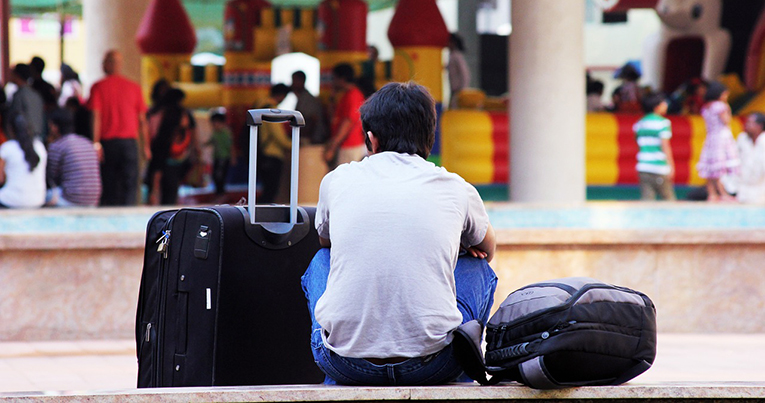 Dare we repeat ourselves?
Again: minimalism is key. MINIMIZE! Reduce! Decrease! Lessen! Curtail! Slash! Other synonyms of minimize!
In the end, keep in mind that you're about to embark on the academic journey of a lifetime, so what earrings you brought or the dozens of shoes you decided to bring will not matter looking back on your study abroad trip ten years from now. Packing to study abroad can seem like a looming obstacle, but with organization and practicality (and keeping the magic word, "minimalism," in mind), what to pack and how to pack becomes just another part of preparing yourself for the amazing adventure that lies ahead.