6 Best Cities for Study Abroad in France
6 Best Cities for Study Abroad in France
by - Published May 17
Feigning for some study abroad dipped in layers of culture and history? Then head to France—it's consistently one of the most popular countries in the world for studying abroad. But it's not just the ins and outs of Paris that international students are clamoring to. From mini metropolises to mountainside towns, plenty of French cities are home to globally ranked universities, offering foreign students a crème de la crème experience.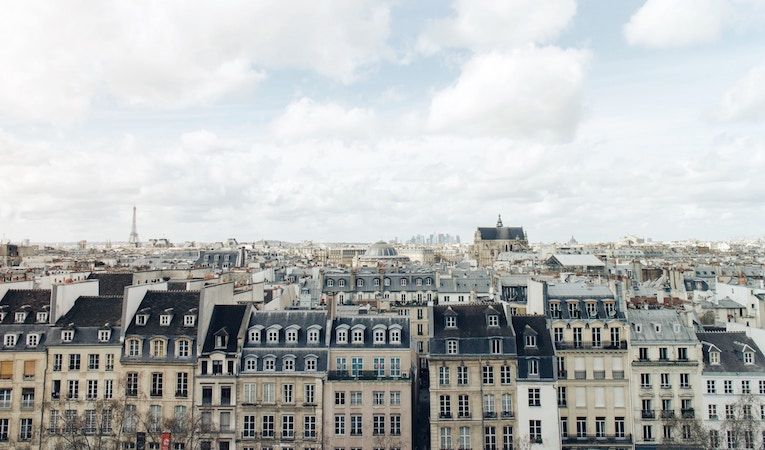 What makes France such a popular choice for study abroad? When it comes to the best study abroad experiences, France ticks off a ton of boxes. For starters, students will get to learn in a global economic giant that's also a world class center for the arts, sciences, and innovation. From France, you can hop on a plane and easily get to to neighboring countries like Belgium, Italy, Germany, or Switzerland for even more epic travel.
Perhaps the best aspect of studying abroad in France are its globally ranked educational universités. While there will be benefits to learning French, it's not a requirement for entry into most French institutions. In addition to the many study abroad in France scholarships available, the French government even offers scholarships to international students. If you complete your masters or Ph.D. in France, you qualify for a five year re-entry visa. #winning And while you're studying, there are plenty of paid internships and part-time jobs open to foreign students. During your downtime, you'll indulge in the amazing food, nightlife, and cultural scenes that France is known for.
With so much awesomeness, how do you pick the right French city for your study abroad? Here's GoAbroad's rundown of the best cities to study abroad in France.
What makes these the best French cities for students?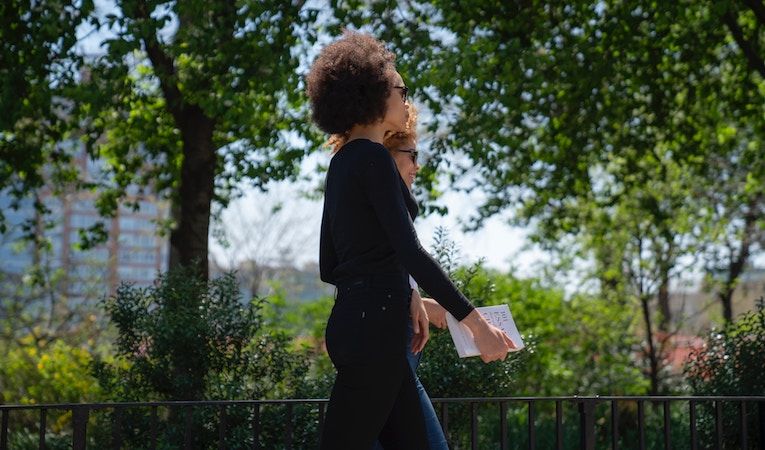 French study abroad programs are sprinkled across several uniquely interesting and stimulating cities. So what's there to love about the best cities to study abroad in France?
Top educational institutions. France has a rep for being a global leader in academia. The best cities in France are each home to top national or continental universities.

History and culture galore. The best French cities are repositories of centuries old cultural sites, exceptional cuisine, fascinating museums, outdoor festivals, and much more.

Ease of travel to other countries. Because what's better than studying in a chic French locale and having quick access to nearby countries to jet off too? Yep. In the best cities to study abroad in France, you will always be a few hours or less away from another European hotspot.

Diversity. The best cities in France are also home to multicultural student populations. So, not only will you be immersed into French culture, you will be exposed to cultural exchange from all around the world.

Affordable cost of living. While a bourgeoisie lifestyle may be the stereotype of France, the best cities for study abroad in France offer plenty of hidden steals, great for student budgets.

GoAbroad's definitive list of the best cities to study abroad in France in 2018-2019
1. Best all-around: Paris
From the peak of the Eiffel Tower to the tunnels of le Métro, Paris frequently tops lists for the most popular and diverse places to study at in.the.world! African studies, architectural engineering… at Paris' cutting edge universities, you can study just about any subject. Now, Paris is not the cheapest city in France to live in. And, if you're not living on campus, it will take a little digging to find affordable rental space. But after all, to live in Paris, the extra work will be totally worth it!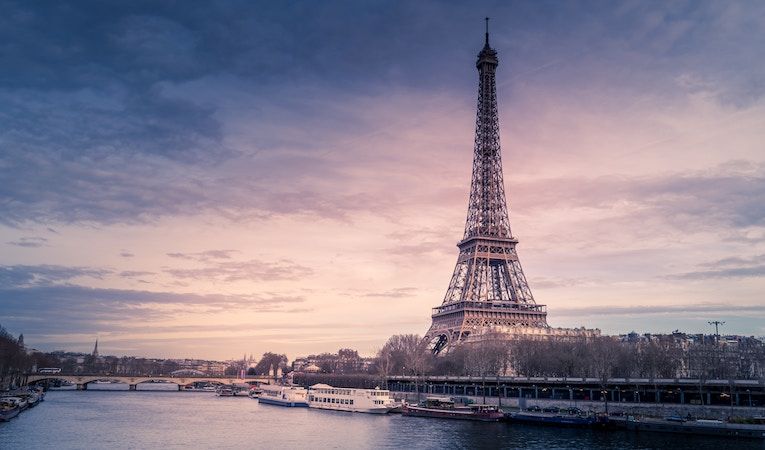 Pros: Paris offers cosmopolitan flair, endless stuff to do, plus an excellent public transportation system to experience it all. Aside from it's rep as the world's fashion capital, Paris dons delicious dining, romantic tourist spots like the Eiffel Tower, deep diversity, and world class academic centers.
Three Parisienne colleges—Ecole Polytechnique, University Pierre et Marie Curie, and Ecole Normale Superieure, Paris are each ranked within the top 115 institutions in the world, offering an amazing selection of courses. And whether you love the arts, music, architecture, Paris offers something for every personality to get involved with.
Cons: It may be tempting to splurge at all those chic couture shops and pâtisseries on the boulevard, so be mindful about how far your student budget can stretch. You may want to consider a round of window shopping before making any impulsive purchases! And, as with any metropolitan city that offers plenty of action, balancing your studies and social life is crucial so that your grades don't slip.
Paris is also known for its sporadic rain showers so be prepared for afternoons of gray skies. However, remember there's a lot more to France than Paris. A weekend French getaway outside of the city limits is where you'll find everything from sunny Mediterranean beaches to snow capped ski slopes.
[Recommended Study Abroad Program in Paris: CEA Study Abroad]
2. Best grub: Lyon
Food lovers gather round! Lyon is known as France's capital of gastronomy—that's the art of cooking, choosing, and eating good food. Translation: you'll never have to go far for a tasty meal! While Lyon isn't as large as Paris, it boasts over 120,000 students, over 100 murals street murals, and France's largest urban park.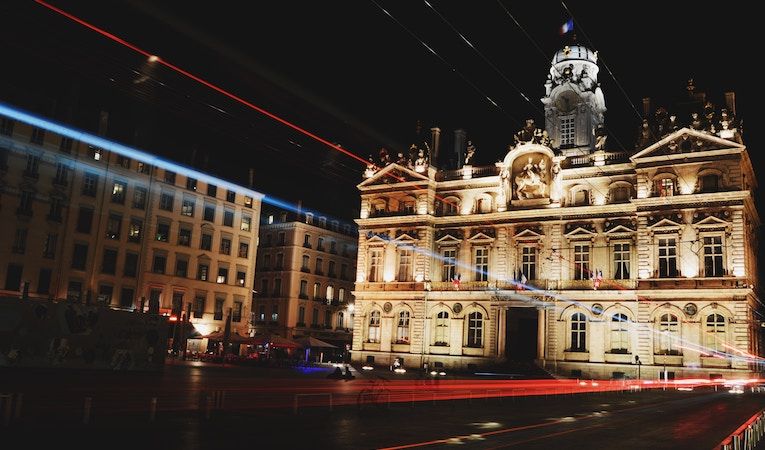 Pros: Are you a history major or someone with a fascination of ancient times? By studying abroad in Lyon, you will have 2000 years of heritage to binge on. A former Roman Empire territory, Lyon is now a UNESCO World Heritage Site overflowing with historical architecture and landmarks. International students will have front seats to the Festival of Lights, a Lyon attraction that pulls in around three million tourists every December!
If you're a fein for adventure travel, Lyon itself is full of adrenaline pumping activities such as hiking, biking, and bungee jumping. And both beaches and the Alps are just a short trip away. When you're ready to get out of town, the city's central European location makes it easy to visit nearby countries.
Cons: Housing can be tough to snag on and off campus, so consider staying in temporary housing first while you search for your new digs. Compared to Paris, weekends, particularly Sundays, in Lyon, can be quiet. However, it's the perfect time for great park and riverside strolls or for exploring one of the city's many Traboules, secret passage ways that wind throughout town. Just plan on wearing a good pair of walking shoes so that trekking through Lyon's many hills is a comfortable experience.
[Recommended Study Abroad Program in Lyon: USAC France in Lyon]
3. Best sunbathing: Nice
Studying abroad on the gorgeous French Riviera? ✅ Yes please! With stunning panoramic views of everything from beach to countryside, it's no wonder Nice is a celeb hotspot. The city has a pleasant Mediterranean climate with the Alps always in view. As an international student in Nice, you will be surrounded by architecture dating back to the 300 BC. And just a few minutes away is Cannes, where that uber cool film festival is held! After classes, you and your new friends can hang on the Rue Bonaparte, a footpath of snazzy bars and clubs.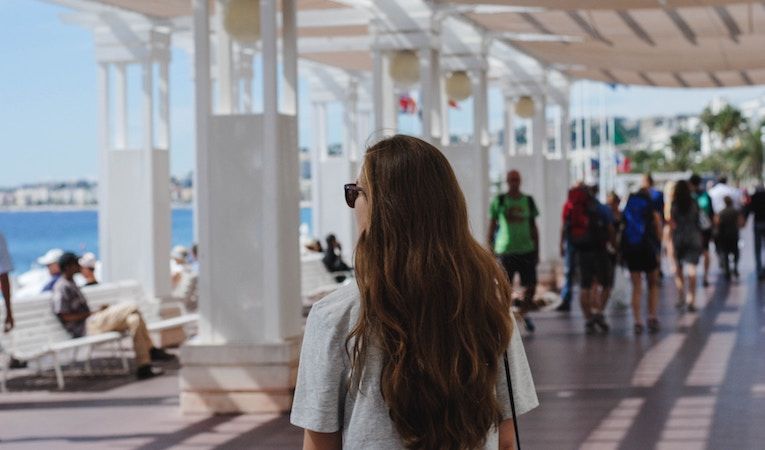 Pros: From its incredible beachlife to stunning mountain views, Nice's endless beauty will be the perfect backdrop for getting in great study sessions. Nice experiences about 300 days of sunshine and with over 100 bus routes, you will have an affordable way to explore the city.
With so many events constantly popping up, foreign students will always be able to find something to do. Days can be spent checking out food festivals, open markets, or passing through Old Town, which is always buzzing with activity. And, if you're in Nice during the French summer, prepare to be enchanted by nights of endless music blasting from the city's free outdoor theaters.
Cons: Nice is surrounded by places like San Tropez, Cannes, and Monaco, and is just 30 minutes from Italy. While checking out these hip locales is fun, their luxurious lifestyles can quickly eat up your bank account. There are tons of inexpensive ways to enjoy the South of France, like sunbathing on the beautiful beaches (Nice beaches are very pebbly so flip flops are a must) or hanging out on the promenades.
It might take some time to get used to the relaxed Nice style of living. With the exception of eating establishments, the city practically shuts down at noon for lunch. Still, it's a welcome midday break to chillax or get together with friends until businesses reopen around.
[Recommended Study Abroad Program in Nice: IES Abroad Nice DE]
4. Best of the old and the new: Toulouse
With two World Heritage Sites in town, study abroad students in Toulouse will have internationally recognized landmarks practically at their doorsteps! This south western French city offers medieval history, all the while being home to the Airbus factory. That's right—you'll be studying abroad at the world headquarters for aviation and spaceflight.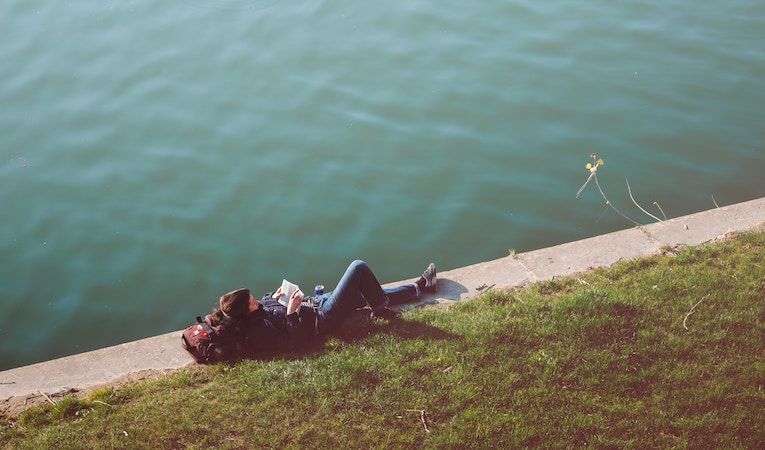 Pros: Toulouse has the second largest student population in France and is an affordable city to live in. The locals have tailored dining and accommodation to fit the budgets of students and transportation is pretty inexpensive. Toulouse is also a center for second hand shopping—foreigners and locals flock to Toulouse specifically for consignment shopping. This totally beats going broke at those fancy Parisienne outlets!
Toulouse is also experiencing an increase in GDP, which has led to rapid population growth for the increased work opportunities available in the city. So, if you return after your study abroad ends, there's a good chance you could get hired for an English teaching job in town!
Cons: Due to high demand, it can be difficult to get housing at universities in Toulouse. You will have to keep an eye out for private student housing, which thankfully is on the rise. International students who are not fluent in French may find day-to-day errands challenging as less people speak English than in more international cities such as Paris. However, in return, your French speaking skills will enhance.
Travelers are also advised not to walk around Toulouse or the outskirts of town solo at night, when the risk for crimes like muggings increases. So, it is safer to go out in groups when heading out after dark.
[Recommended Study Abroad Program in Toulouse: CIEE]
Thinking some panoramic views of the Alps will help you knock out those study sessions? Then head to Grenoble! Between the out of this world backdrop of mountains and small town French living, Grenoble is a peaceful oasis perfect for study abroad success. Are IT and innovation your passion? Grenoble is also home to several world renowned engineering and science schools.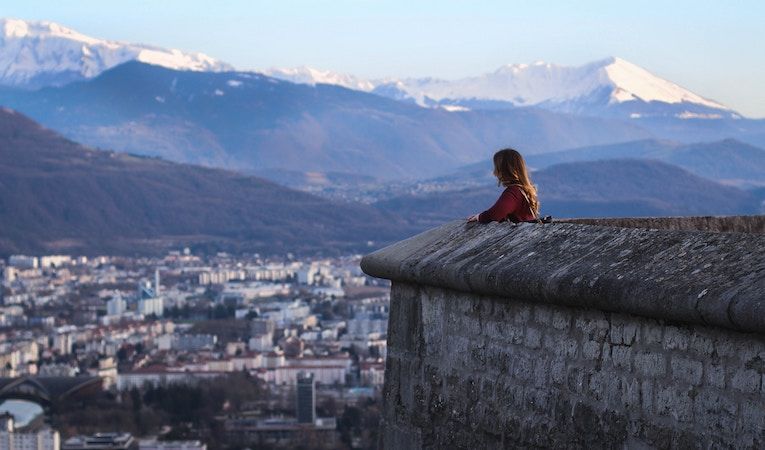 Pros: Students make up 33 percent of the Grenoble population. That means plenty of new faces and a 24/7 social events. The city has been a center for academic excellence since the 1400s and the town's main universities share a large campus. So you can get multiple study abroad experiences for the price of one!
As an international student in Grenoble, the French Alps will just outside town. So when finals hit and you're in need of a mental break, you can dip out to a local resort for some snow sports. Or try hiking or riding a "bubble" (cable car) up La Bastille, a mountain right in the center of the city!
Cons: Do you suffer from bad allergies or asthma? Then you might need to pack some extra pumps or antihistamines along for your study abroad in Grenoble. It's not that the city is overly polluted. However, the fact that it's surrounded by mountains causes pollutants to accumulate in the valley.
Grenoble is a pretty small city with limited airport activity. So, if you're planning to fly out you may have to travel an hour or two to Geneva or Lyon to catch your flight. And, if you're opting for bike travel, carry a sturdy bike lock as bike theft is common in the town.
6. Best spirits: Bordeaux
World renowned for its wine tourism, Bordeaux, which sits along the lovely Garonne River, is one of the best cities to study abroad in France. The Bordeaux University offers plenty of courses to choose from and the area is considered pretty affordable to live in. Despite its small town lifestyle, you can train it from Bordeaux to London in less than six hours. Still, why would you want to? With stunning vineyards, lush gardens, and cultural sites such as the Cathédrale Saint-André to explore, your studying abroad heart will be happy right in town.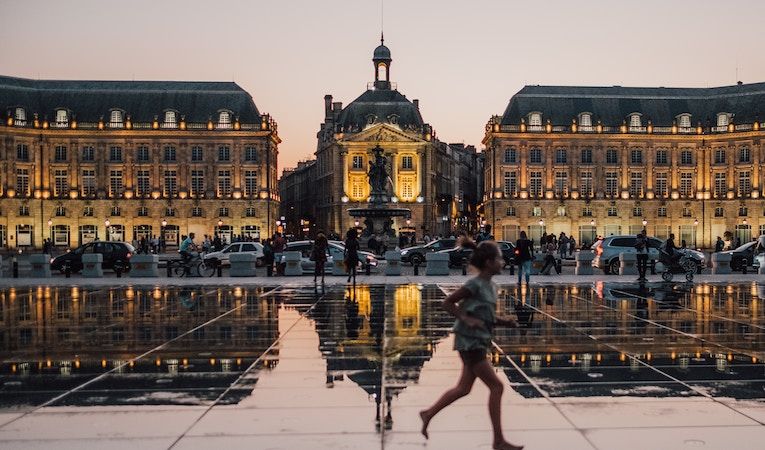 Pros: Students of various religions and sexual orientations will feel welcome, as Bordeaux is known for being a very tolerant and relaxed community. Art buffs will fall in love with the city as its filled with tons of galleries and artsy pop up shops everywhere.
Bordeaux is a wonderful option for students who enjoy outdoor time and greenery. There are gardens and parks at every turn along with the world's largest reflecting pool—stop by to splash around or catch the occasional water mist to cool off during the summertime. The city is also super bicycle friendly, with plenty of bike rental points and car-free routes throughout the town.
Cons: Given its almost 300,000 acres of vineyards, Bordeaux has a reputation of being the wine capital of the world! With that backdrop to your study abroad experience, you could easily end up with a few nasty hangovers. Indulge in moderation and dig into everything else the town offers to make the best of your experience.
The Bordeaux city center can get very congested during the day, so it's better to walk into town and avoid the overcrowded buses during rush hours. Sunday afternoons in Bordeaux are pretty chill as most local shops are closed. However, women are not advised to walk alone in the night due to safety concerns.
[Recommended Study Abroad Program in Bordeaux: CSA]
Next steps to study abroad in France
Don't pack your beret juuuust yet. There are a few items on your study abroad to do list you should check off first.
We *also* wish you didn't have to choose between these best cities in France for international students!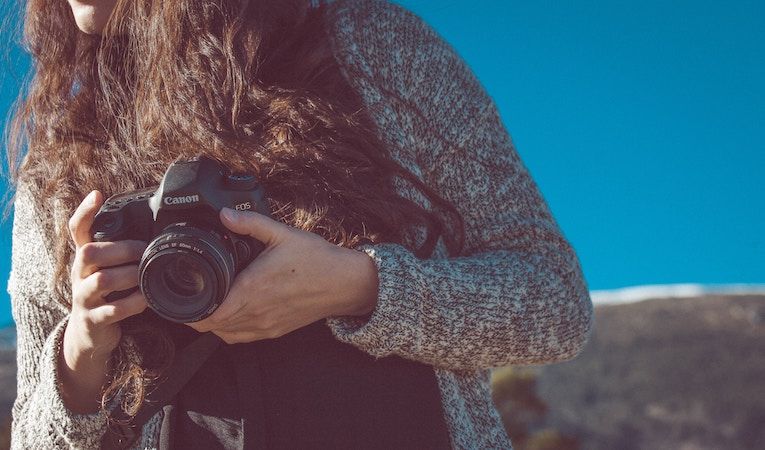 We understand. You're now hip to the best cities to study abroad in France. Yet, you're feeling overwhelmed by all the greatness overload bursting from the best French cities! Torn on how to choose the best place to study French in France? Whether you're looking for the cheapest place in France to live or the most posh, we're here to help! Bonne chance!