5 Best Places for Marine Biology Summer Programs Abroad [INFOGRAPHIC]
5 Best Places for Marine Biology Summer Programs Abroad [INFOGRAPHIC]
by - Published July 30
See the line where the sky meets the sea? Does it call you? Do you want to know how far it goes?! Ok, Moana, calm down. If you can't help but be drawn to that big blue expanse, we have just the solution for you: study marine biology abroad. That's right, follow the motion of the ocean and pursue a summer (or more) abroad! Marine biology summer programs are the perfect for anyone looking to find their way.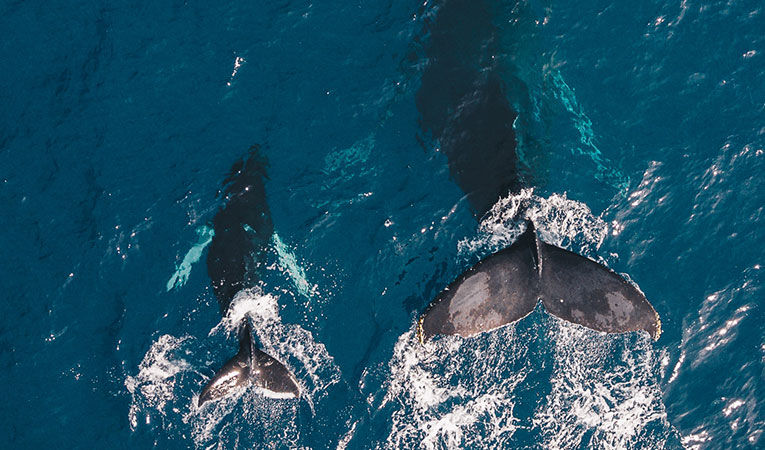 The science of the sea is best understood in the water. Most programs offer field research opportunities and labs along with normal lecture style classes. So you can literally get your feet wet while you learn marine biology. But where to go? Your specific interests and focus areas will play a huge role in where you choose. Interested in tropical fish? Antarctica probably isn't your best bet.
If you're looking for the best place to study marine biology, look no further. We've compiled a list of the five marine biology study abroad programs that we know you'll love. We're also throwing out some ideas on what other fun activities (both on land and at sea) you can do while you're there.

Why study marine biology abroad?
IT RULES! Didn't you learn anything from Sebastian? We recommend that marine biology students pursue programs abroad—especially summer programs abroad—to take what they learn in the classroom and actually apply in real-life situations. There are simply skills related to working with marine creatures that cannot be learned in a classroom; and unless you live in one of these five best places for marine biology summer programs abroad, you likely have little access to some of the best underwater ecosystems in the world.
When things get fishy, you'll know just what to do if you follow our advice and marine biology study abroad!

The key
Program subject matter/focus
If you're going to participate in marine biology summer programs for college students, you're probably going to want focus your studies on one of these subjects:
Marine Ecology: This subset of marine biology takes a closer look at all the interactions among marine-life. It takes into account habitat, populations, and analyzes how they all get along. Ah look, a school of fish. Where do they hang out after class? Who's Becky talking to these days? That kind of stuff.

Sustainability: like any environmental based field, sustainability is a hot topic (#climatechange) in marine biology. Study abroad for a chance to work in the field in your environment of choice. Research ocean pollution, warming, acidification, overfishing, or even ocean sustainability literacy.

Human Impact: People have a way of leaving ripples in their wake. Get a better understanding of how human activities affect marine ecosystems.

Marine Creatures: it's so squishy! There are literally thousands of documented marine creatures to study, and more that have yet to be discovered.

Tropical Botany: The Piña Colada of marine biology. It's the study of of tropical plants (like coral reefs) and how they work in their ecosystems—perfect for marine biology summer programs for college students.

Popular activities for your free time
These are other fun ways to get in trouble, we mean uh, have the experience of a lifetime while studying Marine Biology abroad…
Snorkeling: just pop on a mask and explore the life beneath the waves! Perfect study break.

Scuba diving: a more involved experience that for those who want a deeper connection with marine life. Some programs will even get you PADI certified.

Extreme water sports: jet skiing, kiteboarding, windsurfing, regular surfing…

Hiking: some land based fun if you're feeling salty about the ocean.

City life: shopping, fine dining, nightlife, you name it. City slickers welcome.

5 awesome destinations to study marine biology abroad
Find your porpoise in the best place to study marine biology abroad for YOU.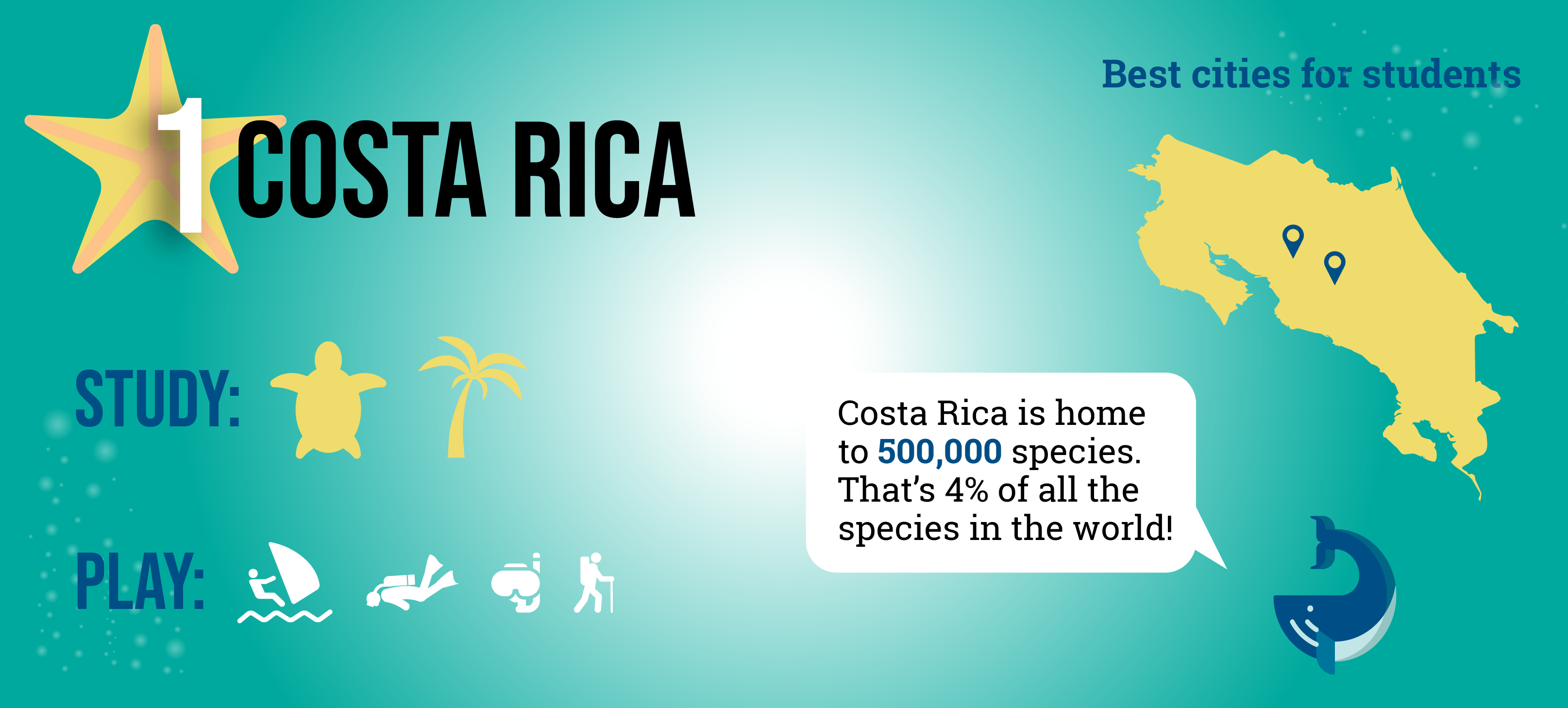 Live that pura vida when you study marine biology abroad in Costa Rica. Costa rica has been called one of the most "biologically intense" places on Earth by National Geographic. With over 500,000 species, this Central American country is home to 4% of all the species in the world. If you're looking for the best place to study marine biology, you may be looking for Costa Rica.
But what to do when your nose is not deep in a book about marine biology? Summer programs in Costa Rica double as the perfect vacation. If you choose a program like AIFS Study Abroad, you'll be put up in a homestay, with meals provided (muy delicioso!). Without the extra expense of housing and food, you can spend your time exploring the country. Take a hike in the Cloud Forest, tour a wildlife refuge, or a coffee plantation. Go on a walking tour of historic San José's many cultural sites, or just hang out on the pristine beaches.
Take a deeper dive into your studies by getting involved with Broadreach marine biology programs. Spend 25 days looking at migratory, mating, feeding, and nesting patterns of sea turtles. And get college credit! Now that is totally RIGHTEOUS, dude.
Where? San Jose, San Ramon

What? Tropical Botany, Marine Creatures

Recommended program? AIFS Study Abroad | 5 weeks | ~$5,000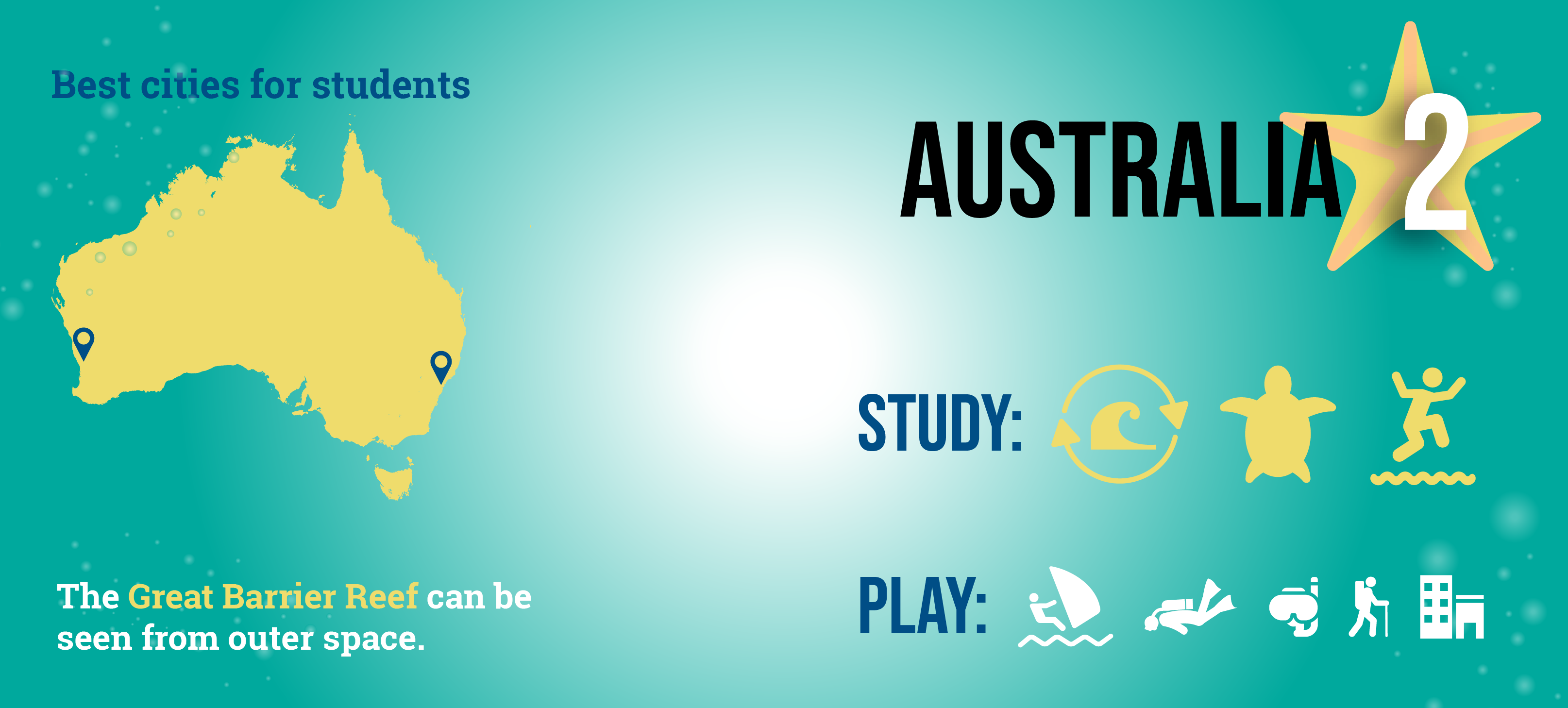 Crikey, you're not surprised that Australia is on this list, are ya? Marine biology study abroad programs in the land down under offer hands on field work, cultural immersion, and, of course, aquatic adventures. The Great Barrier Reef is a marine biologist's dream — with over 3,000 individual reef systems, more than 1,500 species of fish, and 134 species of sharks and rays, this awesome ecosystem has something for everyone. If you find marine biology study abroad programs in Australia, your homework could be scuba diving or snorkeling through the reef.
Unfortunately, the Great Barrier Reef is in trouble. Human pollution has threatened the habitat of some vulnerable species, including marine turtles and dugong. Although this is tragic, there is hope for these creatures if we can get our act together with some sustainability practices and responsible ocean management. You could help. Some marine biology summer programs for college studetns have opportunities to volunteer with wildlife, sustainability, and other planet-minded endeavours.
Looking to get out of the water? Join ISA Study Abroad in Sydney on an excursion to the Blue Mountains, a World Heritage National Park and hike around the rainforest. If you're looking for the city life, Sydney is the perfect landing spot for people in search of a diverse, progressive scene.
Where? Perth, Sydney

What? Sustainability, Marine Creatures, Human Impact

Recommended program? ISA Study Abroad in Sydney | 3-6 weeks | ~$5,000+

See ALL marine biology programs in Australia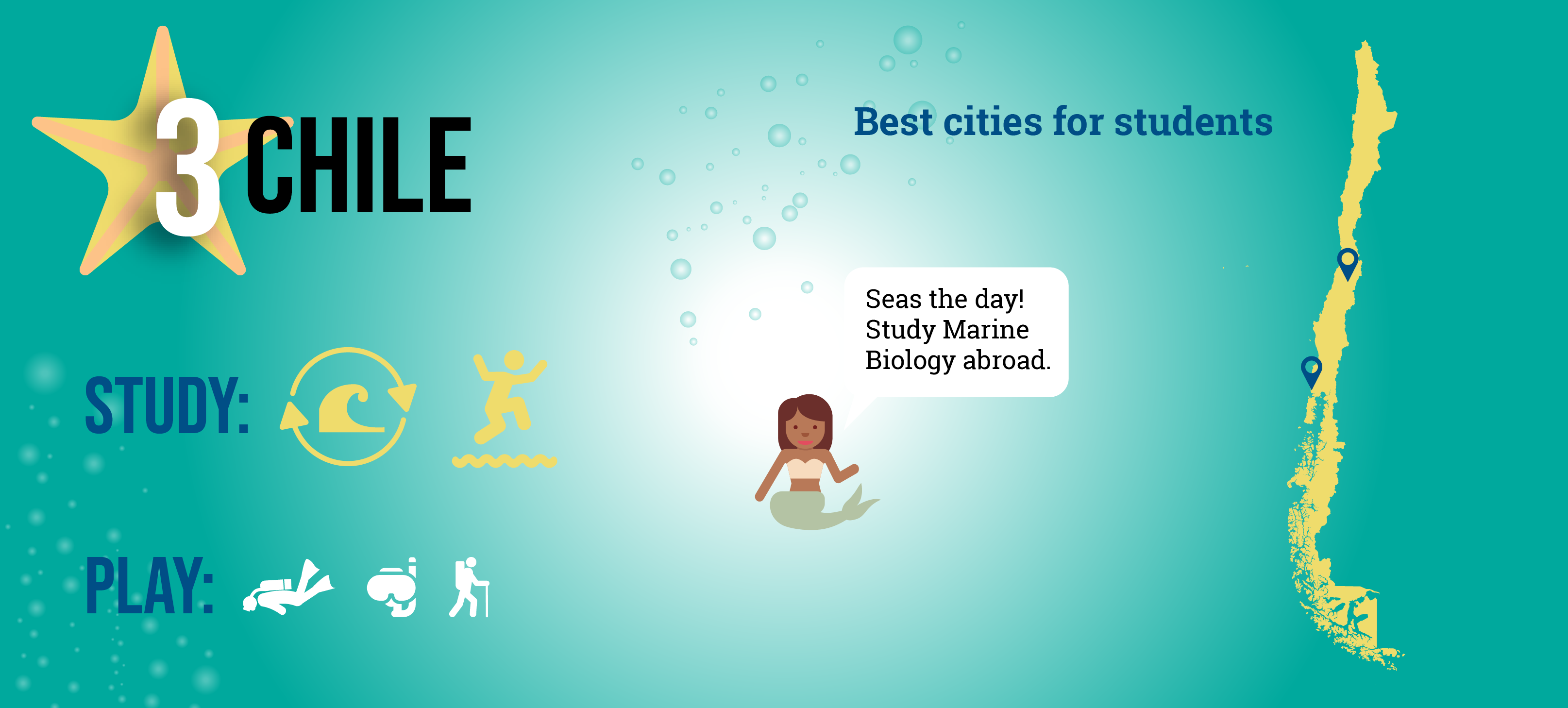 For some folks, summer programs aren't enough—you want a real deal, a full-on, full-semester or year to get down with the fishies. Wave if this describes you! Chile offers just that. You'll be glad to spend the extra time in this country, because you'll want to explore the environmental diversity. There are tropical beaches, dire deserts, monumental mountains, and sub-Antarctic waters.
Study marine biology abroad for a chance to study human impact and sustainability. There have been past reports of overfishing impacting wildlife, creating a need for more responsible interactions with the wildlife. When school gets a tad stressful, just take a Chile pill, and relax on the beach. Or, take out your trekking poles and explore the Andes.
Where? Vina del Mar, Valdivia

What? Sustainability, Human impact

Recommended program? Middlebury School in Chile: Valdivia | 5-10 months | ~$14,000+

See ALL marine biology programs in Chile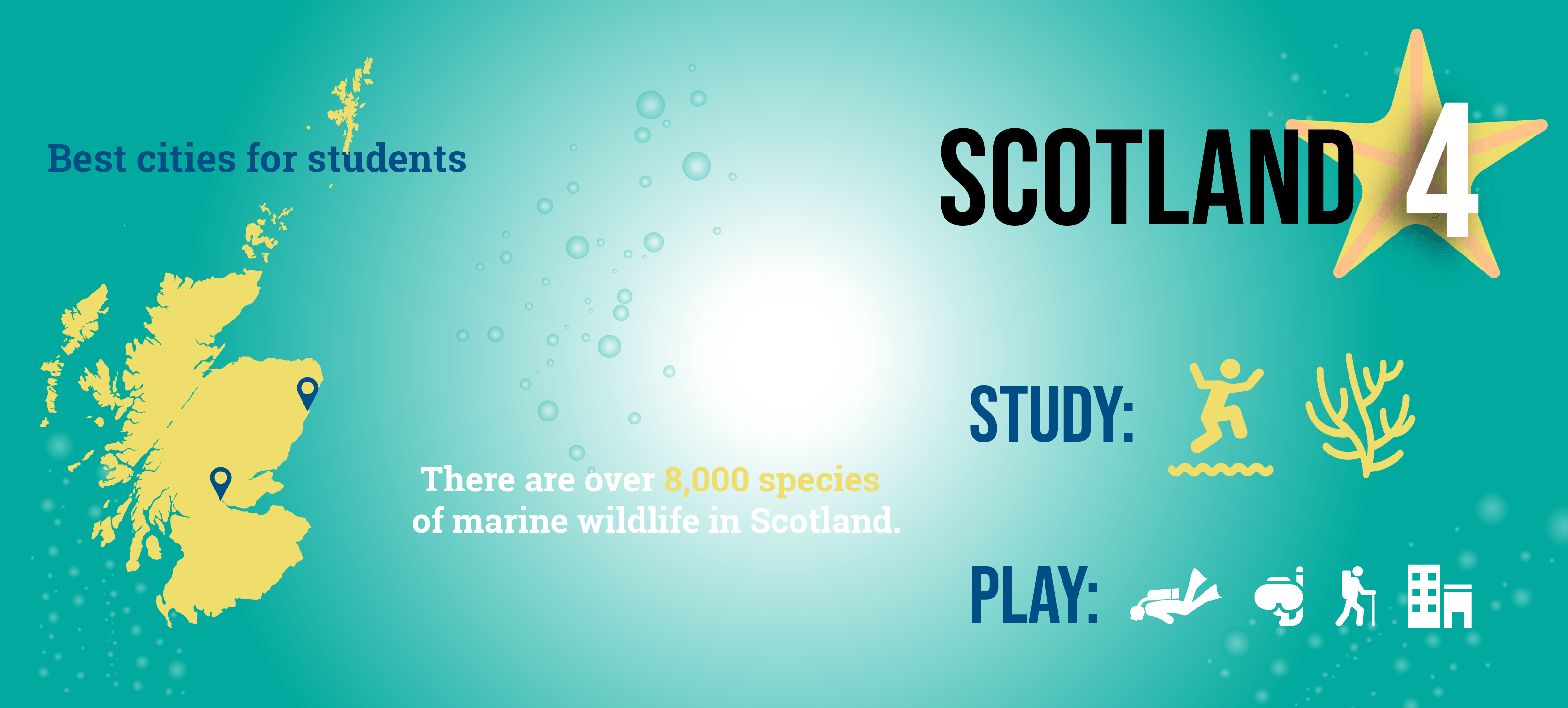 Find marine biology study abroad programs in Scotland for a chance to experience breathtaking landscapes, lively cities, and scientific breakthroughs. It's also one of the best places in Europe to see marine mammals, making it, for all intents and porpoises, one of the best choices for marine biology summer programs. College students will love living in Stirling. The small town has a large student population and a vibrant nightlife. Oh, did we mention that the campus has its on loch & castle? Practically Hogwarts.
Scottish people are known for being… intense. Have you seen Braveheart? It's no surprise that they brave the icy waters and overcast days to snorkel in the Arctic cold water. You'll need a wetsuit and a brave heart, but it'll be worth it. Take the Scottish Snorkel Trail established by the Scottish Wildlife Trust for a chance to see urchins, anemones, suntars, crabs, and the occasional shark.
Where? Stirling, Aberdeen

What? Human Impact, Marine Ecology

Recommended program? API Study Abroad in Stirling | 5 weeks | ~$7,000

See ALL marine biology programs in Scotland

5. ON A BOAT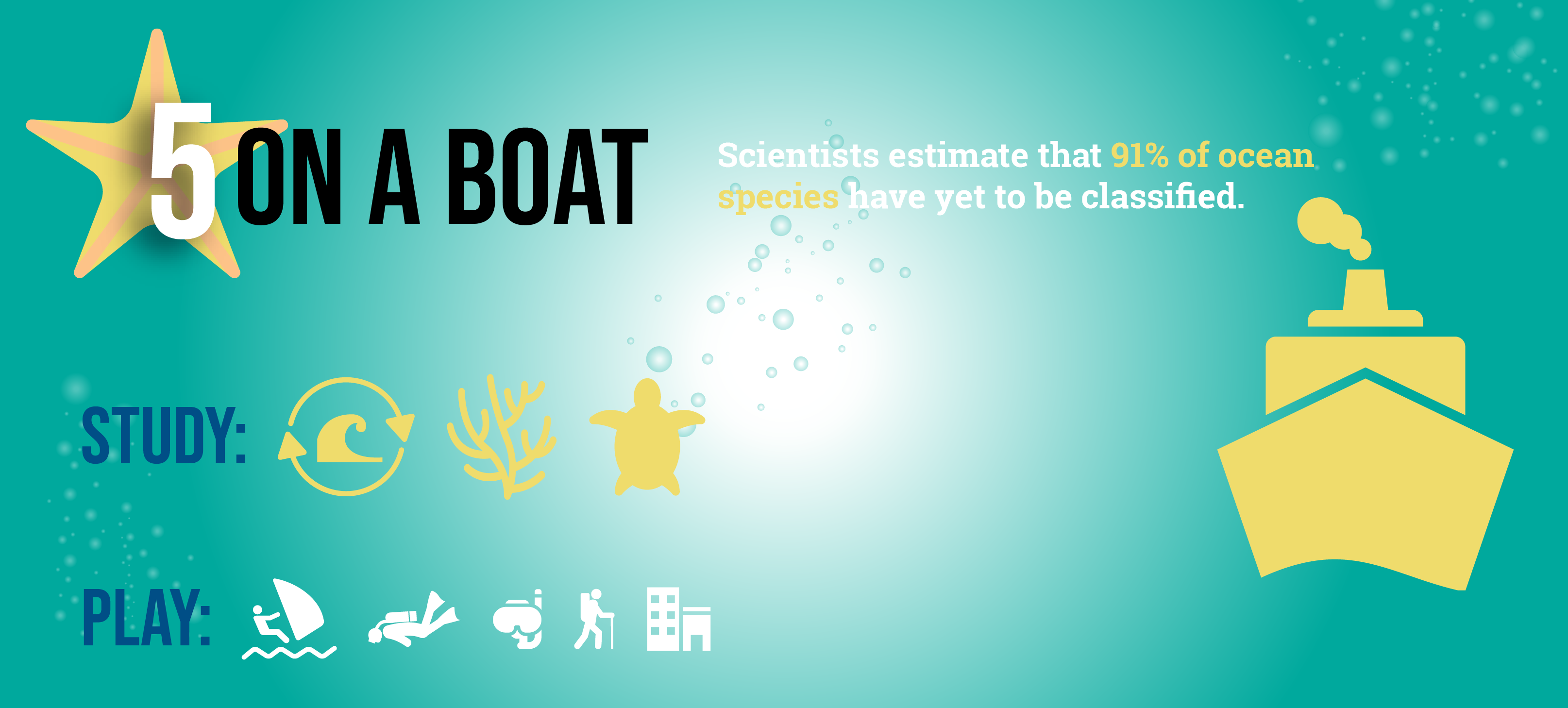 Get your swim trunks and your flippy floppies, because you can study marine biology on a BOAT! With programs like Semester at Sea and Sea|mester, you'll have the opportunity to visit several countries AND study marine biology. Summer programs for college students include PADI scuba certifications, IYT sailing certifications, and First Aid & CPR certifications.
You don't have to settle for just one country to study marine biology abroad. Hop on board for a multi-country extravaganza. Voyages can take you pretty much anywhere, depending on your timeframe and academic focus. You can explore the Virgin Islands, the Morocco, France, and even make it down to Australia.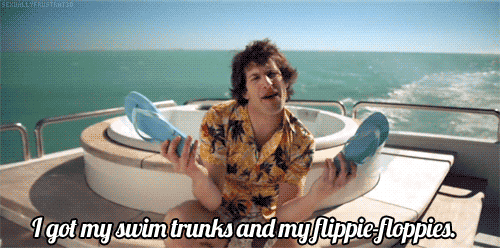 Where? Caribbean, Mediterranean, Atlantic Ocean, anchoring in the Virgin Islands, Dominica, France, Australia, and much more!

What? Sustainability + Marine Ecology + Marine Creatures

Recommended program? Sea|mester | 5-12 weeks | ~$12,000+

See ALL marine biology programs!

Next steps to find marine biology summer programs for college students
Don't pack your snorkeling gear juuuust yet. There are a few items on your study abroad to do list you should check off first.
Decide where to go. Figuring out where to study abroad isn't easy. The gorgeous warm waters of the Atlantic? One of Fiji's many islands? Somewhere in Europe? Don't let the rough seas hold you back—choose a place that's right for you.

Decide when to go? Give your calendar a good-hard look and figure out what time of year—and how long—you want to be abroad. Pruney fingers aside, try to stay as long as possible. To maximize your semester studies and stay on course to graduate, we recommend summer marine biology programs.

Choose from the best marine biology study abroad programs. Pay attention to past participants' reviews, program/university reputation, location, and your ease of getting credits. Some schools or providers may even provide contact info for student ambassadors or past international students if you want the REAL dirt. Here's our guide to choosing between study abroad programs.

Plan your finances. Sort out funding before you go to afford daily essentials and splurge in travel (in addition to program costs and airfare). Do your research to have an idea of how much your study abroad program will cost. Check out scholarships for marine biology summer programs abroad too!

Talk to your home university. Getting all your ducks in a row is largely dependent on what your home university requires. Talk to a study abroad advisor or the equivalent at your university to see what choices are available to you.

Are you ready to ACTUALLY learn Marine Biology?!
School is hard work, but that doesn't mean it shouldn't be fun, too. Marine biology summer programs give you a chance to have an adventure while you learn. When you're choosing your study abroad program, think about the extracurricular activities you're drawn to: are a city gal/guy, or a beach bum? Look for a city on your wavelength. Do you want access to wildlife? Make sure there are some parks around. Don't know exactly what you're looking for? We can match you with the perfect program.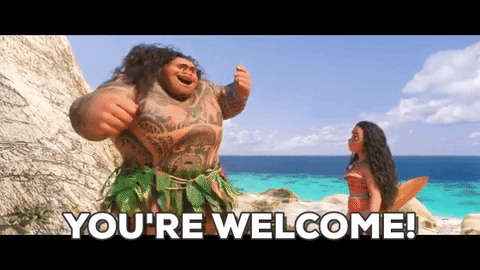 You owe it to yourself, and to the marine methodologies, to take a leap and make a splash with these marine biology summer programs. The options are as vast as the ocean, but we know you'll find your way. When it comes down to it, the best place to study marine biology is where you want to be.

There you have it—the five best places to study marine biology abroad. You're welcome.